Pigeon Pea Dahl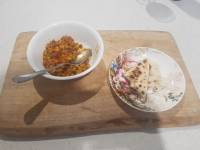 Ingredients
1 cup pigeon peas

2 jalapenos - halved and seeded

1 tsp turmeric ground

Salt

Oil

1 tsp cumin seeds

¼ cup finely chopped onion

1 large garlic clove, minced or chopped

1½ tsp fresh ginger (1" piece)

1x 420g can of Tomatoes crushed

pinch of cayenne pepper

1 tab butter
Procedure
If the pigeon peas are not fresh, in a medium saucepan cover the pigeon peas with water and let soak for 30 minutes
Place pigeon peas in a saucepan. Add the jalapeno, turmeric and 3 cups of water with a pinch of salt. Bring to boil

Simmer over moderately low heat until the peas are just tender but not falling apart, about 15minutes.

In another saucepan heat the oil until hot, add the cumin seeds and cook over moderate heat until fragrant, about 1 minute

Add the onion, garlic, ginger and minced jalapeno. Cook over moderate heat stirring until the onion is lightly browned.

Add the remaining turmeric, tomatoes and cayenne pepper, cook over moderately low heat until the liquid has evaporated and the tomatoes have softened.

Add the pigeon peas and their cooking liquid to the tomato mixture and simmer until the dal is slightly thickened. Season with salt. Stir in butter and serve with rice or nann.